I found a Mazda RX-8 for $800. It ran when, about two years ago, it was parked under a tree after the owner diagnosed a misfire from a bad ignition coil. It collected mold inside, leaves outside, and vegetation underneath.
With a little luck, it'll be racing this December in the 24 Hours of LeMons' . The fires on the Internet will burn brighter that day with the opinions of keyboard experts.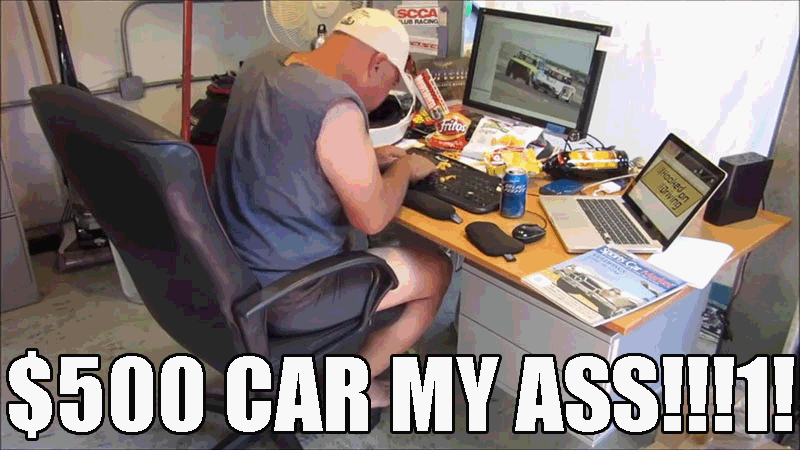 Earlier this year my old buddies decided to reunite during LeMons' first race at Road Atlanta. Road Atlanta is beautiful, has decent amenities for camping, and shouldn't be too hot or too cold in early December. Also: One of us now lives practically across the street from the place.


When we decided it was actually feasible as a get-together, we kicked around ideas for a car to race. That's how I briefly ended up with this nightmare project Fiero earlier this year. It was free, but had too many needs and I didn't like it enough as a platform to spend late nights wrenching on it.
Fieros just aren't , and iron-head V6 engines are damn heavy.
I returned that car to its owner and we sort of scrapped the idea until July.


That's when my brain lit up with Mazda RX-8s. Right away I found several under $2,000. Bingo. I verified with Kelley Blue Book: Resale values are garbage. These are known as great-handling, lightweight cars with modest power, but they give terrible gas mileage and have a (perhaps undeserved) reputation for early engine failures. I won't get into that, except to say that rotaries seem to do a lot better when they're frequently spun to redline.
Bonus: I've never owned a Wankel.



Conveniently, one of us knew a guy with the perfect one for our goals.
Johnny, who's been racing just about forever now, knows the guys at . They make the LSx and LFX swap parts for Miatas and RX-8s, and a bunch of other Miata parts. One of them had this RX-8 track toy. It had some aftermarket springs and shocks, cat delete, and a misfire supposedly from a bad ignition coil. "He'll let it go for pennies," Johnny said. Well, 80,000 pennies.


It took a bit of wife-convincing—the Fiero had left both of us sore about any future project cars—but I convinced a friend to store my Justy in his yard for a few months so our garage and driveway wouldn't be overcrowded. In one of my brief chats with the owner, he offered this line completely unprompted: "I had been thinking of just scrapping the thing anyway."
I crossed my fingers, borrowed a truck and dolly, and drove out to pick it up.


It has mold inside. And spiders. The dashboard is rough. The stereo might be dead. The battery is hopelessly flat. He said, "Yeah, if I spent a weekend cleaning it up, I might be able to get $1,500 for it." I aired up the tires with my bike pump, we pushed it onto the dolly and I pulled away toward lunch.


I moved down to Florida from Chicago, so pilgrimage to Portillo's is required anytime I'm near Tampa. Even if the car is hopeless, I decided, the Combo Hot alone is almost worth the trip. I also got a cake shake, onion rings, and some lemon cake to take home to my exceedingly patient and loving wife.
Beefy farts lasted well into the following day. That's value.


Fun find: Tampa appears to be home to the "So Low" Toyota Prius.

When I got it home, I learned that every single one of my cars uses the same battery. Mazda5, MR2, Justy, and now RX-8. I borrowed the MR2's and turned the key. It is a bit hard to start and has an erratic misfire—something I keep hoping will be solved with new ignition coils—but it did fire up quickly considering it sat for two years, and seems to idle and rev pretty well.


Kiddo helped scrub the moldy exterior and blow off the leaves that collected around the trunk and engine bay.


I will bleach the door panels, pull the carpet, and daily it for a little bit to shake out any problems. There are also spiders to kill. Then it's getting brake pads, fresh fluids, and heading up to Johnny's for a roll cage and safety equipment.


We hope to go racing in December in a mostly-stock RX-8 with most of its interior intact. It should really crank up the haterade juicer. We're not a competitive team (I'll cover theme and budget strategy in a later post), so we're not worried about the potential penalty laps. It will never win because of fuel consumption rate anyway, but it will be fun.
[Photos copyright 2017 Alan Cesar | Redusernab]